Community Engagement in the Time of Coronavirus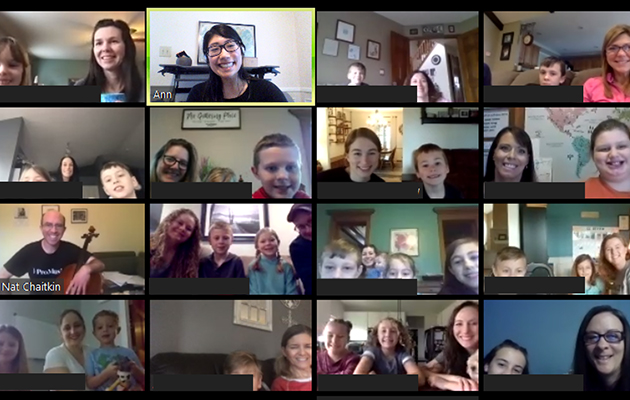 The adage, "Absence makes the heart grow fonder," couldn't be more true as we move into the fourth month of working from home. We've all shifted from our shared physical spaces of workplaces and concert halls and library meeting rooms to virtual ones. Let's take a look at how ProMusica has continued to connect with our Columbus community over the last few months:
Friday the 13th: While our wonderful string quartet was programmed to play a sensory-friendly concert at the Columbus Metropolitan Library – Whetstone Branch on Saturday, March 14, we knew the stay-at-home order was imminent. Therefore, on Friday, March 13, we flew into action. Of course, the internet at the office was down that morning, so I ran to the nearest library, which was slated to close soon, to print music for the string quartet while Matt manned the phones. Janet reached out to Haven Collective, our neighbors, to ask whether we could borrow their gorgeous space to film, and Brittany contacted our friends at Ologie to borrow camera equipment. It's a beautiful thing to see communities help one another. When the quartet arrived to record the family concert just a few hours later, Matt operated the camera, Brittany captured photos for social media, and the quartet performed as if they had their wide-eyed audience listening. Just another day in the life of ProMusica.

ProMusica musicians Eric Kline, Brett Allen, Heather Kufchak, and Cora Kuyvenhoven perform.
School's Out: All of the schools were shut down, but that didn't mean Play Us Forward came to a halt. Karen Koger and Jasmine Tunac, our Teaching Artists, reached out to the administrators of Columbus Collegiate Academy's Main Street and Dana campuses, and Graham Elementary & Middle School, who helped them set up virtual classrooms. From there, they created class content that continued to hone their students' musical talents. Karen drove to her students' homes to tune their violins (in a socially distant and safe manner!) so they could participate in virtual private lessons, dropped off goodie bags for her graduating eighth graders, and even made a trip to Indiana to acquire instruments so that her students would be well equipped when they come together an orchestra again. We are thankful to both our Play Us Forward instructors for their dedication to their students and to our schools' administrators for making learning possible!

We aren't the only ones who are thankful. One of our students wrote this sweet message: "I have been missing the weekly violin classes though, you should have seen my face when I saw the invite for this Google classroom, I [was] so happy I almost cried."
Musical Moments: I'm one of few millennials who still prefers phone calls to texting, so one might imagine how I gawked at the steep learning curve of using technology to produce our Virtual Storytimes, which included learning video production programs, editing programs, digital audio devices, streaming software, etc. Now having run the gamut, I can say it's been one of my favorite projects, working with our musicians to curate a program for our youngest audiences. I am thankful for all the musicians and their patience as we worked through our technical difficulties, but I think we all had fun singing children's songs together, talking about the letter of the day, presenting show-and-tells with various instruments, and putting music to words for each story.

We certainly had fun making Vadim and David's storytime! Here's a blooper reel.
A pervasive theme during this time is the notion that humans thrive on community. We need our face-to-face connections, the freedom to hug one another, and to palpably feel each other's sorrow and grief without a screen. We want to express ourselves to one another in each other's company. For me, this is the power of music – the musicians and conductor expressing themselves in a musical work while the audience empathizes and thereby shares an experience together with the musicians.
Brinton Smith said, "You must protect your belief that the music is part of something greater than yourself – greater than any of us." He was referring to Jasha Heifetz, who said, "There is no top. There are always further heights to reach," and Brinton was correct in in saying that there is always more beauty, more insight, more heartbreak, and more music to be found. Thank you, Columbus, for letting us laugh with your little ones, grow alongside your students, and continue to share music with you.