SummerFEST returns for Four Performances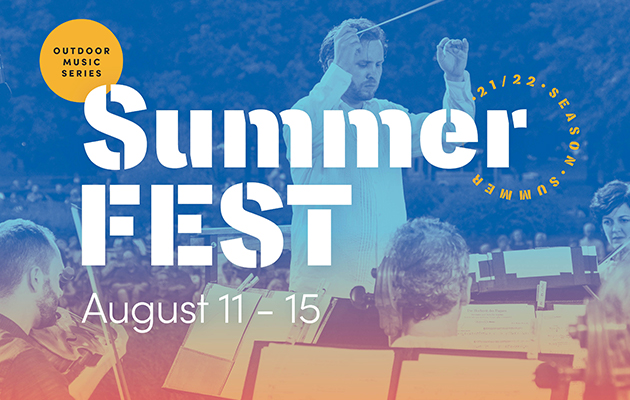 Concerts will take place at the Franklin Park Conservatory & Botanical Gardens and Coffman Park
(Columbus) – ProMusica Chamber Orchestra, led by Music Director David Danzmayr, today announced the schedule of events for SummerFEST 2021 with a series of four outdoor concerts and the return to full audience capacity. ProMusica's outdoor summer offerings have become a Central Ohio staple and will serve as another sign that the arts community is coming back to life after more than a year of pandemic restrictions, quarantines and social distancing.
SummerFEST is a chance for Central Ohio's premiere chamber orchestra, featuring world-class musicians from all over the country, to shine with the orchestra's own musicians performing as soloists. It also offers a chance for the Central Ohio community to enjoy classical chamber music concerts in casual outdoor park settings.
This year, SummerFEST will be presented at two different venues; three different concert programs over four nights. On Wednesday, August 11 and Thursday, August 12, the concerts will take place at ProMusica's traditional summer home, the Franklin Park Conservatory & Botanical Gardens. On Saturday, August 14 and Sunday, August 15, the orchestra heads northwest for two nights at the Coffman Park Amphitheater in Dublin.
"Despite the challenges that the pandemic threw our way, last year's SummerFEST was an incredible success. We know there's a demand for beautiful music in a beautiful outdoor setting in Columbus, so we are building on what we have done in the past and expanding our footprint to two great locations in Central Ohio," said Janet Chen, CEO of ProMusica.
Programs:
Wednesday, August 11 | 8:00 PM | Franklin Park Conservatory
Marc Moskovitz, cello
David Danzmayr, conductor
Eric Whitacre – River Cam for Solo Cello and Strings
Joseph Haydn – Cello Concerto No. 1 in C Major
Wolfgang Amadeus Mozart – Symphony No. 36 "Linz"
Thursday, August 12 | 8:00 PM | Franklin Park Conservatory
Katherine McLin, violin
David Danzmayr, conductor
Johann Sebastian Bach/arr. Clarice Assad – Suite for Lower Strings
Astor Piazzolla – Four Seasons of Buenos Aires
Osvaldo Golijov – Last Round
Astor Piazzolla – Adios Nonino and Fuga y Misterio
Saturday, August 14 | 7:00 PM | Coffman Park
Sunday,  August 15 | 7:00 PM | Coffman Park
Chelsea Hart Melcher, soprano
David Danzmayr, conductor
Franz Schubert – Symphony No. 5
Eduard Strauss – Carmen Quadrille
Franz Lehár – Vilja Lied from "The Merry Widow"
Johann Strauss – Mein Herr Marquis from "Die Fledermaus"
Johann Strauss – Tick Tack Polka
Pietro Mascagni – Intermezzo
Johann Strauss – Blue Danube
Johann Strauss – Radetzky March
TICKET INFORMATION
Concerts at Franklin Park Conservatory & Botanical Gardens are free of charge. Guests have the option to upgrade the experience by purchasing VIP tickets that include reserved seating at a table catered by Together & Company. A full bar will also be on site.
Concerts at Dublin Coffman Park Amphitheater are $20 for adults and $10 for children (12 & under), general admission, and must be purchased online in advance.
SummerFEST is presented by the Crane Family Foundation, the Fox Foundation, and Cardinal Health, with support from CoverMyMeds and City of Columbus Recreation and Parks Department. Concerts in partnership with Franklin Park Conservatory & Botanical Gardens are sponsored by The Dunn Family Grandchildren and the Richard M. Ross, Jr. Family in honor of Donald Dunn. Media sponsor is WOSU Classical 101 FM.
###
ABOUT PROMUSICA
ProMusica Chamber Orchestra delivers a world-class and unique classical music experience—through innovative chamber orchestra programming, education outreach, audience intimacy, and artistic excellence. Recognized for its commitment to performing new and contemporary repertoire, ProMusica has commissioned 68 new works and has presented more than 120 premieres.
Bringing worldwide talent to Columbus since 1978, ProMusica offers an adventurous musical experience through intimate performances on the stages of the Southern Theatre and venues across central Ohio. The orchestra, comprised of 37 musicians, showcases homegrown talents, rising stars, and guest artists of international acclaim. Beyond the concert hall, the orchestra is equally at home throughout the community, serving thousands of individuals through key education and outreach programs. Known for its dual traditions of artistic integrity and fiscal responsibility, ProMusica is now in its 43rd season.
ProMusica's 2021-2022 season is supported by the Greater Columbus Arts Council, The Columbus Foundation, the Ohio Arts Council, Nationwide, The Reinberger Foundation and the ProMusica Sustaining Board. Media support is provided by WOSU Classical 101 FM.
Additional information is available at www.promusicacolumbus.org.