ProMusica to Highlight Revered Classics and Diverse Voices in 45th Anniversary Season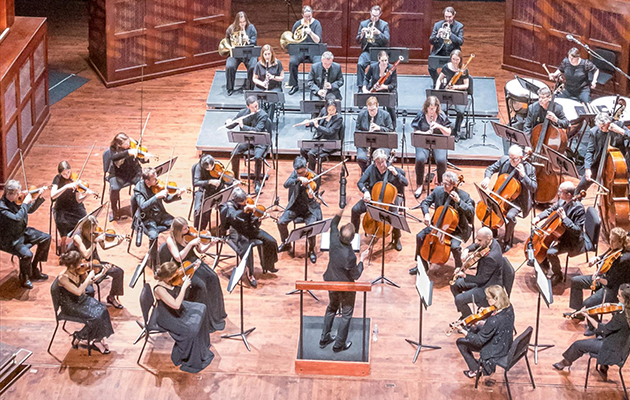 The 2023-2024 season will mark a decade with David Danzmayr and Vadim Gluzman
ProMusica Chamber Orchestra has announced its 2023-24 season subscription concert schedule featuring works from both new and familiar voices, renowned artists and rising talents, and another installment of NAKED CLASSICS. The 45th season will celebrate a decade of music-making and evolution under the guidance of Music Director David Danzmayr and Creative Partner and Principal Guest Artist Vadim Gluzman.
"We are thrilled to present our 45th season which also intersects with a decade of artistic leadership, with our Music Director David Danzmayr and Creative Partner violinist Vadim Gluzman," said ProMusica's CEO Janet Chen. "The orchestra has flourished under their creative visions, continually pushing the artistic boundaries, redefining what it means to be a modern chamber orchestra. This season confirms our commitment to honoring our blend of traditional favorites and promoting the rich and diverse voices of today's composers.
OPENING WEEKEND: BEETHOVEN & BRUCH, Oct. 7-8, 2023, at the Southern Theatre:
ProMusica will open the season with Beethoven's Symphony No. 2 paired with American composer Carlos Simon's Fate Now Conquers — a work that gestures to Beethoven's legacy. The concerts will also welcome violinist and Avery Fisher Career Grant recipient Simone Porter. Recognized as being "on the cusp of a major career" by The Los Angeles Times, she has performed with leading orchestras including the New York Philharmonic, Philadelphia Orchestra, and Los Angeles Philharmonic. Porter will perform Bruch's Violin Concerto No. 1, a personal favorite of Danzmayr's.
STEEL PAN & SCHUBERT, Nov. 11-12, 2023, at the Southern Theatre:
GRAMMY-nominated composer and percussionist Andy Akiho will make his debut as part of ProMusica's "Composer/Performer Project," performing Beneath Lighted Coffers, his mesmerizing Concerto for Steel Pan and Orchestra. Known as "an increasingly in-demand composer" by The New York Times, he is the only composer to be nominated for a GRAMMY in the Best Contemporary Classical Composition category in both 2022 and 2023. Classical in style, yet romantic in spirit, Schubert's Symphony No. 9, "The Great" will conclude the evening.
GARRICK OHLSSON PLAYS BEETHOVEN, Dec. 9-10, 2023, at the Southern Theatre:
World-renowned and acclaimed pianist Garrick Ohlsson will take the stage with ProMusica, performing Beethoven's deeply personal and beautifully intimate Piano Concerto No. 4. Highly regarded for his command of the piano repertoire, he has premiered many commissioned works and holds more than 80 concertos at his fingertips. The program will open with the lively A Short Piece for Small Orchestra by Julia Perry, an American composer from Akron, Ohio, who combined her classical training with her African American heritage. The program closes with Schubert's Symphony No. 2, led by Danzmayr.
VIRTUOSIC VIOLIN, Jan. 27-28, 2024, at the Southern Theatre:
Fifteen-year-old rising star violinist Fiona Khuong-Huu will make her ProMusica debut with a duo of works, Saint-Saëns' showpiece Introduction and Rondo Capriccioso and Ravel's colorful Tzigane. The program will include Prokofiev's effervescent first symphony "Classical" and Haydn's dramatic last symphony "London" – one of the first works Danzmayr conducted as a Music Director candidate. Fiona Khuong-Huu's appearance is in partnership with North Shore Chamber Music Festival's Arkady Fomin Scholarship Fund.
THE ITALIAN SUN, April 13-14, 2024, at the Southern Theatre:
Hailed by Gramophone as "one of the finest among the astonishing gallery of young virtuoso cellists," Johannes Moser will join Gluzman who will lead the orchestra for an imaginative program drawing on Italian inspiration. From Tchaikovsky's Souvenir de Florence to Michi Wiancko's modern arrangement of Geminiani's classic La Follia, the evening will be filled with the enchanting sounds of strings. The program will also include Concerto per Archi by Italian composer Nino Rota, best known for his film scores and compositions for The Godfather film trilogy.
VADIM GLUZMAN PLAYS TCHAIKOVSKY, May 11-12, 2024, at the Southern Theatre:
To conclude the season, ProMusica's artistic leaders Danzmayr and Gluzman will reunite onstage. Gluzman will perform Tchaikovsky's Violin Concerto, one of the most celebrated works of the violin repertoire, on the 'ex-Leopold Auer' Stradivari, for which the concerto was composed. Ukrainian composer Valentin Silvestrov's moving Hymne — 2001 will open the program and Danzmayr will conduct Brahms' Symphony No. 2 to end the season.
NAKED CLASSICS: HAYDN & PROKOFIEV, Jan. 26, 2024, at the Southern Theatre:
Presenter and host Paul Rissmann will return to Columbus to explore the similarities and connections between two works composed over a 122-year time span. Rissmann will guide the audience through Prokofiev's first symphony, "Classical"— a homage to classical form — and Haydn's last symphony, "London." ProMusica's NAKED CLASSICS series offers the opportunity to experience the deconstruction of live masterworks through graphics, excerpts, and interviews to reveal fascinating aspects of the music and its composer, with the full work being performed in the second half of the concert in its entirety.
More information about the season schedule can be found at promusicacolumbus.org/current-season/. Additional events and performances will be announced at a later date, including information on the Neighborhood Series and the annual fundraiser, the ProMusica Soirée.
###
SEASON TICKET SUBSCRIPTIONS AND SINGLE TICKET INFORMATION
Subscription packages range from $99 to $324 and will go on sale on Thursday, May 11, 2023, and will be available online at promusicacolumbus.org and by calling the ProMusica Box Office at 614.464.0066 ext. 101. Single tickets will range from $18 to $64 and will go on sale in August. Single tickets will be available through the ProMusica office or via Ticketmaster.
ABOUT PROMUSICA
ProMusica Chamber Orchestra delivers a world-class and unique classical music experience—through innovative chamber orchestra programming, education outreach, audience intimacy, and artistic excellence. Recognized for its commitment to performing new and contemporary repertoire, ProMusica has commissioned 68 new works and has presented more than 110 premieres.
Bringing worldwide talent to Columbus since 1978, ProMusica offers an adventurous musical experience through intimate performances on the stages of the Southern Theatre and The Fives. The orchestra, comprised of 37 musicians, showcases homegrown talents, rising stars, and guest artists of international acclaim. Beyond the concert hall, the orchestra is equally at home throughout the community, serving thousands of individuals through key education and outreach programs. Known for its dual traditions of artistic integrity and fiscal responsibility, ProMusica is now in its 45th season.
ProMusica's 2023-2024 season is supported by the Greater Columbus Arts Council, The Columbus Foundation, the Ohio Arts Council, Nationwide, the Reinberger Foundation, and the ProMusica Sustaining Board. Media support is provided by WOSU Classical 101 FM.