Croatian pianist Martina Filjak returns to the stage with ProMusica for season finale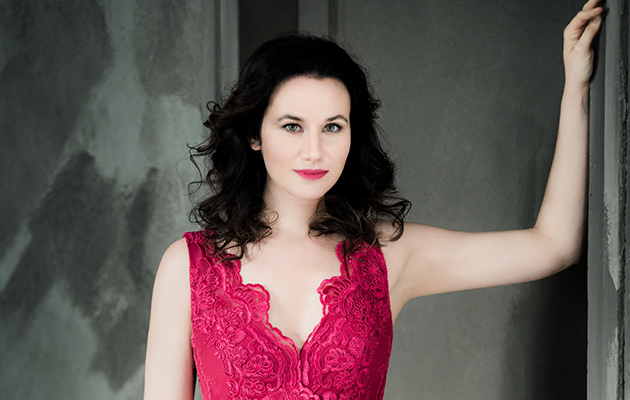 (Columbus) – ProMusica Chamber Orchestra welcomes internationally renowned pianist Martina Filjak to the Southern Theatre for a pair of performances in early May. With Music Director David Danzmayr conducting, Filjak will perform her interpretation of Beethoven's Piano Concerto No. 3. An additional highlight of the weekend's program will be the Ohio premiere of Anna Clyne's work, Stride. The Orchestra wraps up their 43rd season with Mendelssohn's famous Symphony No. 4 "Italian."
The Mendelssohn's Italian concerts will be performed on Saturday, May 7 at 5:30 PM and Sunday, May 8 at 7 PM at the Southern Theatre.
The program opens with Grammy-nominated composer Anna Clyne's Stride – commissioned as part of Beethoven's 250th birthday celebrations in 2020 – highlighting ProMusica's strings. Next, Martina Filjak joins the orchestra for Beethoven's Piano Concerto No. 3, an intensely personal work full of highly expressive tonalities, written during a challenging time in the composer's life after his hearing loss had become evident. Felix Mendelssohn's energetic and dramatic Symphony No. 4 "Italian"  brings a fiery, celebratory end to the season. 
In addition, at the start of the Saturday, May 7 performance, students from ProMusica's Play Us Forward (PUF) string program will take the stage once again, after a two-year hiatus due to the pandemic, with several ProMusica musicians for a brief showcase performance. Participants in the PUF program, from select urban charter schools, recieve quality music instruction and instruments at no cost to their families or their schools. This opportunity features the students' hard work over the academic year.
"The pandemic and residual effects this past year did not deter us from making music for our beloved audiences and community, and we are grateful for our enthusiastic supporters!" said ProMusica CEO Janet Chen. "I was present when Martina won first prize at the Cleveland International Piano Competition in 2009, and we are excited for her return to ProMusica, joining David and our musicians for a joyous end to our 2021-22 season."
Croatian-born concert pianist Martina Filjak first appeared with ProMusica in April of 2016. She has established herself internationally with her passionate, poetic playing and the brilliant technical mastery of her instrument. The New York Times calls her "brilliant, sensitive and imaginative…with technical ingenuity and natural musicality."
After graduating from the Music Academy in Zagreb, she completed her studies at the Vienna Conservatory and the Hanover University of Music, Drama and Media. She has won the 2007 Viotti and 2008 Maria Canals competitions, the Bösendorfer Prize and received the first prize award at the Cleveland International Piano Competition in 2009. Filjak has performed with esteemed orchestras of her home country and across the globe, including the Zagreb, Strasbourg, Morocco, Belgrade and Torino Philharmonics; the Barcelona, Bilbao, Chautauqua, Tenerife, Chile and Moscow Symphony Orchestras; the Georgian Chamber Orchestra of Ingolstadt, Croatian Chamber Orchestra and the Chamber Orchestra of South Africa.
Tickets for the Mendelssohn's "Italian" concert range from $16 to $58 and are available through the ProMusica office (online at www.promusicacolumbus.org, and by phone at 614.464.0066 ext. 101) or through Ticketmaster.
To ensure flexibility and safety for all audiences, a section for social distanced seating is available upon request, through the ProMusica office. With the lifting of city-wide restrictions, masks will be optional.
###
ABOUT PROMUSICA
ProMusica Chamber Orchestra delivers a world-class and unique classical music experience—through innovative chamber orchestra programming, education outreach, audience intimacy, and artistic excellence. Recognized for its commitment to performing new and contemporary repertoire, ProMusica has commissioned 69 new works and has presented more than 110 premieres.
Bringing worldwide talent to Columbus since 1978, ProMusica offers an adventurous musical experience through intimate performances on the stages of the Southern Theatre and The Fives. The orchestra, comprised of 37 musicians, showcases homegrown talents, rising stars, and guest artists of international acclaim. Beyond the concert hall, the orchestra is equally at home throughout the community, serving thousands of individuals through key education and outreach programs. Known for its dual traditions of artistic integrity and fiscal responsibility, ProMusica is now in its 43rd season.
ProMusica's 2021-2022 season is supported by the Greater Columbus Arts Council, The Columbus Foundation, the Ohio Arts Council, Nationwide, the Reinberger Foundation, and the ProMusica Sustaining Board. Media support is provided by WOSU Classical 101 FM.