Danzmayr and Gluzman team up to conclude season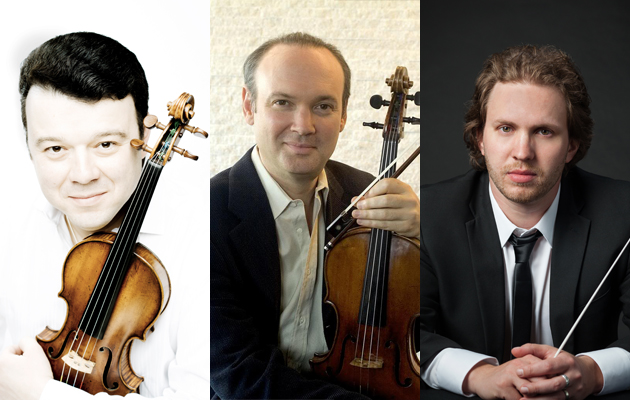 Violist Paul Neubauer will join for finale concert
(Columbus, OH) – In what is becoming a popular ProMusica tradition, Music Director David Danzmayr and Creative Partner & Principal Guest Artist and internationally renowned violinist Vadim Gluzman will join forces for the third ProMusica "David & Vadim" season grand finale. Another face familiar to ProMusica supporters, acclaimed violist Paul Neubauer, will join the duo on stage as they perform a rousing program of Mozart, Bartók and Piazzolla.  David & Vadim will be presented on Saturday, May 13 at 5:30 p.m., and Sunday, May 14 at 7 p.m. at the Southern Theatre.
"This exciting conclusion to our season will also be a sneak preview of sorts for ProMusica's appearance at the North Shore Chamber Music Festival on June 10th," said Executive Director Janet Chen. "The orchestra will present a concert titled 'Mostly Mozart' in Chicago, which will feature the two Mozart pieces from the finale weekend."
In addition to Mozart's Sinfonia Concertante for Violin, Viola and Orchestra and Symphony No. 29, the orchestra will perform Hungarian composer Béla Bartók's Romanian Folk Dances and Argentinian tango master, Astor Piazzolla's, Coral, which has been arranged for string orchestra by Pedro Pablo Garcia Caffi.
At the start of the concert, ProMusica will showcase its Play Us Forward middle school violin students in a brief performance. The Play Us Forward program is one of ProMusica's educational programs that provides musical instruction and instruments to students from underserved communities at no cost.
During the finale weekend, ProMusica will also recognize The Elizabeth M. Ross Guest Artist Fund for Excellence, established in memory of arts advocate and founding member and former chairwoman of the ProMusica Chamber Orchestra, Elizabeth "Libby" Ross.
The David & Vadim concert will feature a return appearance by violist and two-time Grammy nominee Paul Neubauer. His exceptional musicality and effortless playing led The New York Times to call him "a master musician." In 2016 he was appointed Artistic Director of the "Mostly Music" series in New Jersey. This season he will be featured in a "Live from Lincoln Center" broadcast with the Chamber Music Society of Lincoln Center. Appointed principal violist of the New York Philharmonic at age 21, a position he held for six years, Neubauer has appeared as soloist with more than 100 orchestras including the New York, Los Angeles, Helsinki and Hong Kong philharmonics. He has recorded works by Schumann as well as numerous pieces that were composed for him, including Joan Tower's Purple Rhapsody for viola and orchestra with Timothy Russell and the ProMusica Chamber Orchestra. His recording of the Walton Viola Concerto was recently re-released on Decca. He has also recorded for Deutsche Grammophon, RCA Red Seal and Sony Classical and in 2016, he released a solo album. He has previously appeared as soloist with ProMusica in 2006 and 2008.
Nationwide Insurance is the presenting sponsor for the David & Vadim season finale concerts.
TICKET INFORMATION
Tickets for the David & Vadim concert can be purchased for $12 to $50. Single tickets are on sale through the ProMusica office (614-464-0066; www.promusicacolumbus.org) or Ticketmaster.
ABOUT PROMUSICA
ProMusica Chamber Orchestra delivers a world-class and unique classical music experience—through innovative chamber orchestra programming, education outreach, audience intimacy, and artistic excellence.  Recognized for its commitment to performing new and contemporary repertoire, ProMusica has commissioned 64 new works and has presented more than 110 premieres.
Bringing worldwide talent to Columbus since 1978, ProMusica offers an adventurous musical experience through intimate performances on the stages of the Southern Theatre and the Worthington United Methodist Church. The orchestra, comprised of 37 musicians, showcases homegrown talents, rising stars, and guest artists of international acclaim. Beyond the concert hall, the orchestra is equally at home throughout the community, serving thousands of individuals through key education and outreach programs. Known for its dual traditions of artistic integrity and fiscal responsibility, ProMusica is now in its 38th season.
ProMusica is funded in part through the work of the Greater Columbus Arts Council, The Columbus Foundation, The Reinberger Foundation, the Ohio Arts Council, and the ProMusica Sustaining Board. Media support is provided by WOSU Classical 101 FM.
###
04/17/2017