ProMusica Celebrates Holiday Season with a Messiah Sing-Along, Cellist Natalie Clein, and Beethoven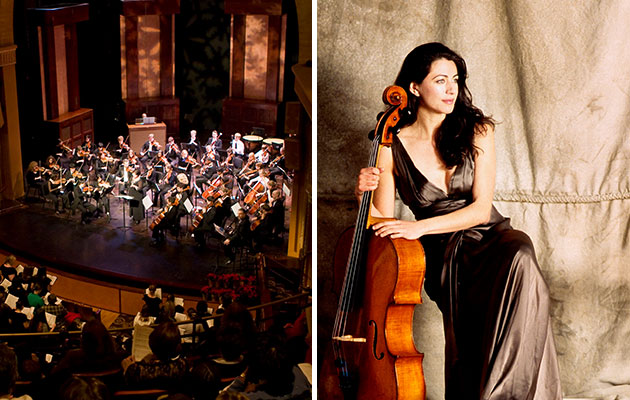 (Columbus, OH) – ProMusica Chamber Orchestra and music director David Danzmayr offer two programs for a music-filled weekend in December. The weekend will start with the annual holiday favorite, the "Messiah Side-by-Side Sing-Along," and will culminate with two evenings of a program titled "Beethoven's Eroica" which continues ProMusica's Beethoven Symphony Cycle and will also feature British cellist Natalie Clein in her first appearance with the orchestra.
The Beethoven's Eroica concert program will spotlight guest artist Natalie Clein performing one of Shostakovich's most challenging pieces, his Cello Concerto No. 1, and will begin with Anna Clyne's beautiful elegy Within Her Arms. Composer Anna Clyne was born in London, but now resides in the United States. Clyne is one of the American immigrant composers whose work ProMusica will highlight this season; each concert will feature a composer who has chosen to make this country their home. The program concludes with Ludwig van Beethoven's powerful Symphony No. 3 in E-flat Major, 'Eroica.' This will be the second time that the orchestra has performed Beethoven's Eroica under David Danzmayr's leadership. The concerts will be presented on Saturday, Dec. 9 at 5:30 p.m. at the Worthington United Methodist Church, and Sunday, Dec. 10 at 7 p.m. at the Southern Theatre.
Cellist Natalie Clein burst into the spotlight in 1994 with victories in the BBC Young Musician of the Year contest and the Eurovision Competition for Young Musicians. She was just 16 when she won the former competition and the first British musician to win the latter. Clein has appeared on acclaimed recordings for EMI and Hyperion, and regularly performs as soloist with major orchestras in the U.K., Europe, the Americas, Australia, and New Zealand. Among her more acclaimed recordings is her 2009 Hyperion CD of Zoltán Kodály's Sonata for Solo Cello, with pianist Julius Drake. Clein has taught at the London-based Trinity College of Music since 2009.
"We are thrilled to have Natalie Clein joining us this December – she is a very talented artist who is recognized for her lyricism and riveting interpretations. We're very much looking forward to her debut appearance with ProMusica performing Shostakovich's first cello concerto," said ProMusica Executive Director Janet Chen. "In addition, we always look forward to our community tradition of joining forces with singers and musicians from all around Central Ohio for our Messiah Sing-Along."
Danzmayr will again host and lead the orchestra at this year's interactive community event, the Messiah Side-by-side Sing-Along. High School students, local choirs, and area music directors will join forces together for a rousing performance of choral excerpts from Handel's Messiah. Audience participation is highly encouraged, making this one of the most anticipated holiday events each year. The Messiah Sing-Along takes place on Friday, December 8 at 7:30 pm at the Southern Theatre and tickets are $23 each for general admission.
###
SEASON TICKET SUBSCRIPTION (AND SINGLE TICKET) INFORMATION
Single concert tickets to "Beethoven's Eroica" range from $12 to $50 and are on sale now. Subscriptions packages, ranging from $62 to $270, are still available for the 2017-18 concert season, including a Flex Series option and a Worthington Series. Subscriptions and single tickets are available through the ProMusica office (614-464-0066; www.promusicacolumbus.org) or through Ticketmaster.
ABOUT PROMUSICA
ProMusica Chamber Orchestra delivers a world-class and unique classical music experience—through innovative chamber orchestra programming, education outreach, audience intimacy, and artistic excellence.  Recognized for its commitment to performing new and contemporary repertoire, ProMusica has commissioned 65 new works and has presented more than 110 premieres.
Bringing worldwide talent to Columbus since 1978, ProMusica offers an adventurous musical experience through intimate performances on the stages of the Southern Theatre and the Worthington United Methodist Church. The orchestra, comprised of 37 musicians, showcases homegrown talents, rising stars, and guest artists of international acclaim. Beyond the concert hall, the orchestra is equally at home throughout the community, serving thousands of individuals through key education and outreach programs. Known for its dual traditions of artistic integrity and fiscal responsibility, ProMusica is now in its 39th season.
ProMusica is funded in part through the work of the Greater Columbus Arts Council, The Columbus Foundation, The Reinberger Foundation, the Ohio Arts Council, and the ProMusica Sustaining Board. Media support is provided by WOSU Classical 101 FM.
###
10/27/2017