Anthony Trionfo, flute
Jessica Smithorn, oboe
Jenny Magistrelli, clarinet
Rachael Young, bassoon
Brad Granville, horn
READ MUSICIANS' BIOS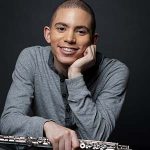 Praised as a "breezily virtuosic flutist" by the New York Times after his concerto debut with the Orchestra of St. Luke's and Teddy Abrahms in May 2019, flutist Anthony Trionfo is "a musician of prodigious talent and scintillating personality" (Oberon's Grove).
Anthony Trionfo has performed as a soloist with the Edmonton Symphony, ProMusica Chamber Orchestra, the "President's Own" Marine Band, McCall Festival Orchestra, and the Stockton Symphony. Recently, he has given recitals at the Morgan Library and Museum in New York, Festival de Ibagué in Colombia, Colgate University, and the Brownville Concert Series. He also frequently appears with the Jupiter Chamber Players in New York City. This season, Anthony makes his concerto debuts with the Grant Park Festival Orchestra, Riverside Symphony, and Gulf Coast Symphony Orchestra, in addition to providing educational residencies for the Juilliard School, Artists Series Concerts of Sarasota, Ithaca College, Clarion Concerts, and Abbey Church Events.
Anthony won First Prize at the 2016 Young Concert Artists International Auditions. In 2018, he debuted in the YCA Series at New York's Merkin Concert Hall and Washington DC's Kennedy Center along with pianist Albert Cano Smit, premiering a new work by YCA Composer-in-Residence Katherine Balch.
Committed to diversity, equity, and inclusion work within the field of classical music, Anthony has made a purpose of bringing music to all. In 2020, Anthony co-curated "Learning to Listen: A discussion addressing the nuances of the Black experience within classical music" in addition to the Sphinx Organization's "Illuminate!" series along with Steven Banks and Randall Goosby. Anthony is also a creator of the Umoja Flute Institute, a non-profit organization dedicated to providing flutists of African descent with the tools needed to succeed and thrive at all levels of music making. He is a faculty member with MusicAlly and serves on the Diversity, Equity, and Inclusion Committee for the Aspen Music Festival and School.
Anthony completed both his master's and bachelor's degrees from the Colburn School. Conservatory of Music in Los Angeles, California under the tutelage of James Walker, former principal flute of the Los Angeles Philharmonic.
While at Colburn, he was named a Teaching Fellow and studied the art of pedagogy under Dr. Robert Duke. He completed his high school studies at the Interlochen Arts Academy in Interlochen, Michigan as a student of Nancy Stagnitta. He has had additional studies with Nadine Asin, Timothy Day, Dr. Megan Lanz, Emmanuel Pahud, and Mark Sparks.
---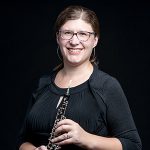 Jessica Smithorn is the second oboist of the ProMusica Chamber Orchestra, principal oboist of the Chattanooga Symphony and Opera, a member of the Chattanooga Symphony Orchestra Wind Quintet, as well as principal oboist of the Shippensburg Festival Orchestra. She previously was the English hornist with the Evansville Philharmonic Orchestra and was an associate musician with the Columbus Symphony Orchestra.
Equally comfortable in leadership and section roles, Jessica has regularly appeared with orchestras such as the Buffalo Philharmonic (including a NAXOS recording project), Omaha Symphony, Kansas City Symphony, Louisville Orchestra, and Cincinnati Ballet. She was also the oboist on a tour of Mexico with the Eastman Broadband Ensemble, a new music group dedicated to performing the music of Latinx composers.
Jessica studied at the Eastman School of Music with Richard Killmer; the College-Conservatory of Music with Mark Ostoich, Dwight Parry, and Chris Philpotts; and the University of Missouri-Kansas City with Barbara Bishop. When she's not making reeds or practicing, Jessica enjoys baking, playing with her cats, and taking nature walks.
---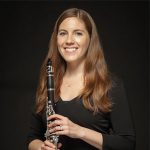 Jennifer Magistrelli joined ProMusica Chamber Orchestra in 2012, after playing with them as a substitute for a season. She resides in the Cleveland area and is on the faculty of the Aurora School of Music in addition to maintaining a private clarinet studio. She is an active orchestral and chamber music performer and has appeared in concerts throughout Ohio, Pennsylvania, Indiana and New York. She has also performed in Italy with International Opera Theatre.
Jennifer earned her Bachelor's Degree in clarinet performance from Carnegie Mellon University, where she was a two-time recipient of the Silberman Clarinet Award, and her Master of Music Degree from Northwestern University. She also studied at the Brevard Music Center and the Pierre Monteux School. Her primary teachers have been Thomas Thompson, J. Lawrie Bloom and Daniel Gilbert.
---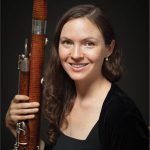 In addition to performing with ProMusica, Rachael Young is Principal Bassoon of the Dayton Philharmonic Orchestra and Springfield Symphony Orchestra, a position she previously held with the Kentucky Symphony and Symphony of Southeast Texas. She is also Principal Bassoon of the Shippensburg Festival Orchestra.
Rachael has maintained an active and varied orchestral career, holding positions with the Chattanooga Symphony and Opera and Tuscaloosa Symphony in addition to performing with the Cincinnati Symphony, Columbus Symphony, Charlotte Symphony, Alabama Symphony, Louisville Orchestra, Rochester Philharmonic, Chicago Sinfonietta and many others. She has also performed as a soloist with the Dayton Philharmonic Orchestra.
As a chamber musician, Rachael won a silver medal at the 2008 Fischoff Chamber Music Competition, has performed at the Kennedy Center, and was invited as a fellow to Yale's Norfolk Chamber Music Festival. She also received the John Celentano Award for Excellence in Chamber Music from the Eastman School of Music. Rachael graduated from the Eastman School of Music as a student of John Hunt, and Rice University's Shepherd School of Music as a student of Benjamin Kamins. She enjoys traveling, hiking, and all things culinary arts, and is a native of Oswego, IL.
---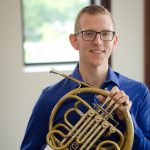 A native of Columbus, Ohio, Dr. Brad Granville currently serves as Third Horn of the Illinois Symphony Orchestra and Kentucky Symphony Orchestra. Previously, he has served as Third Horn of the Dubuque Symphony Orchestra, and Acting Principal Horn of the Indianapolis Chamber Orchestra. Brad has also appeared regularly as a guest musician with the Chicago Symphony Orchestra, Cincinnati Symphony Orchestra, ProMusica Chamber Orchestra, and the Milwaukee Ballet Orchestra.
In addition to his performing career, Dr. Granville is a dedicated academic committing his attention towards research and pedagogical studies. His research focuses on the influence of political regimes on musical repertoire, and has been accepted for publication in the journal of the International Horn Society. Additionally, he has presented guest masterclasses at institutions across the Midwest. Dr. Granville has studied in the studios of Nicholas Perrini, Bruce Henniss at The Ohio State University, Oto Carrillo at DePaul University, and Denise Tryon at the University of Cincinnati College-Conservatory of Music.
Back