Neighborhood Series: Mozart & More
David Danzmayr, conductor
Ellen Connors, bassoon
Featured Musicians' Bios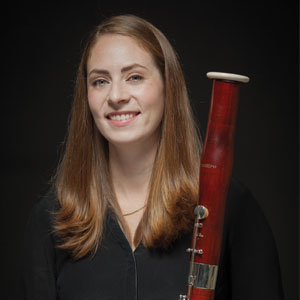 Principal bassoonist Ellen Connors has been a member of ProMusica since 2011. In the past she served as Principal Bassoon of the Knoxville Symphony, the Sarasota Opera and the Artosphere Festival Orchestra. Additionally, she has performed extensively with the Baltimore Symphony, the Saint Louis Symphony, the Cincinnati Symphony, the Alabama Symphony and the Grand Rapids Symphony. She has been spending summers in Idaho as a member of the Sun Valley Music Festival since 2011.
A lover of new music, Connors has devoted several summers to the performance of new works in Lucerne, Switzerland, and in 2019 was Principal Bassoon of the Cabrillo Festival of Contemporary Music in Santa Cruz, California.
Connors completed her undergraduate studies at Rice University, studying with Ben Kamins. While at Rice, she won a prestigious Watson Fellowship and spent the following year studying folk music in China, Mongolia, Laos, Bulgaria and Norway. Connors received her Master of Music degree from the Yale School of Music as a student of Frank Morelli. A Michigan native, Connors resides in Saint Louis with her husband and two young children.
Back