Featured artists' bios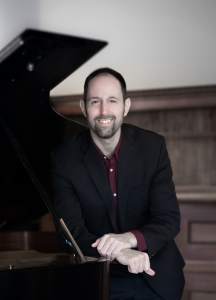 Lauded for "superb playing" and "poised, alert musicianship" by The Boston Globe and labeled "definitely a man to watch" by London's The Independent, American pianist Spencer Myer is one of the most respected and sought-after artists on today's concert stages.
Spencer Myer's current season includes touring throughout the United States, highlighted by a return to the ProMusica Chamber Orchestra of Columbus, and a return recital tour in Nova Scotia, Canada. He continues as half of the Daurov/Myer Duo, having teamed up with the award-winning cellist Adrian Daurov in 2012. Mr. Myer has been appointed Visiting Assistant Professor of Piano at Indiana University Bloomington's Jacobs School of Music, replacing Arnoldo Cohen, who is on sabbatical for the 2022 spring semester.
Spencer Myer's orchestral, recital and chamber music performances have been heard throughout the United States, Canada, Europe, Africa and Asia. He has been soloist with, among many others, The Cleveland Orchestra, Boise, Dayton, Evansville, Louisiana, Massapequa, Northeastern Pennsylvania and Rhode Island philharmonic orchestras, Pro Arte Chamber Orchestra of Boston, the Altoona, Bangor, Baton Rouge, Bozeman, Canton, Chattanooga, Duluth Superior, Flagstaff, Grand Junction, Indianapolis, Juneau, Knoxville, Longmont, Macon, Missoula, New Haven, Omaha, Phoenix, Ridgefield, San Juan, Santa Fe, Springfield (MA, MO, OH), Traverse, Tucson and Wyoming symphony orchestras, Indianapolis Chamber Orchestra, Ohio's ProMusica Chamber Orchestra, New York City's The Park Avenue Chamber Symphony, Canada's Windsor Symphony Orchestra, Mexico's Orquesta Filarmónica de Jalisco, South Africa's Cape Town and Johannesburg philharmonic orchestras and Beijing's China National Symphony Orchestra, collaborating with, among others, conductors David Bernard, Nicholas Cleobury, Kayoko Dan, David Danzmayr, Robert Franz, Neal Gittleman, Bernhard Gueller, Jacques Lacombe, Jahja Ling, Dirk Meyer, Elliot Moore, Timothy Muffitt, Maurice Peress, Kyle Wiley Pickett, Arthur Post, Kevin Rhodes, Lucas Richman, Matthew Savery, Alfred Savia, Klauspeter Seibel, Steven Smith, Gerald Steichen, Arjan Tien, Peter Stafford Wilson and Victor Yampolsky. His 2005 recital/orchestral tour of South Africa included a performance of the five piano concerti of Beethoven with the Chamber Orchestra of South Africa, followed by six return orchestra and recital tours between 2006 and 2018.
---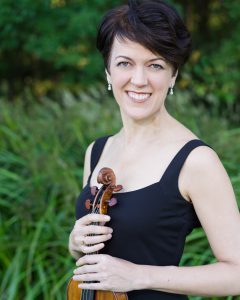 Violinist Katherine McLin enjoys an extremely varied and prolific performing career as a concerto soloist, recitalist, and chamber and orchestral musician. Since her debut with the Oregon Symphony at the age of fifteen, Katie has made over 100 appearances as soloist with orchestras across the country. In addition to performing the standard canon, she is an enthusiastic advocate of new music and has either premiered or given second performances of concerti by John Adams, Lera Auerbach, Hans Gal, and Joel Puckett.
Katie appears on 20 compact disc recordings under the Summit, Centaur, and Opus One labels. Her live and recorded performances have been broadcast on NPR's Performance Today, NYC's WQXR, and local television and radio stations throughout the country. As a member of the McLin/Campbell Duo with pianist Andrew Campbell and frequent chamber music collaborator with colleagues around the world, Katie performs extensively throughout the United States and abroad. She serves as a guest artist at numerous summer chamber music festivals, most recently with the Interharmony International Music Festival (Italy), Saarburg Chamber Music Festival (Germany), Chintimini Chamber Music Festival (OR), Red Rocks Music Festival (AZ), and the Orlando Chamber Players at the Festival of the Black Hills (SD).
Since 2007, Katie has held the position of Concertmaster of the ProMusica Chamber Orchestra. Previously she served as Concertmaster of the Brevard Music Festival Orchestra, Chattanooga Symphony, Arizona Philharmonic, Michigan Sinfonietta, and the Aspen Sinfonia Orchestra, and Principal Second Violin of the Michigan Opera Theater Orchestra.
A committed and passionate teacher, Katie was awarded the Evelyn Smith Professorship in Music at Arizona State University in 2016, a three-year endowed position that recognizes a faculty member who demonstrates outstanding leadership in their field. In 2004 she was awarded the Distinguished Teacher Award for the College of Fine Arts, chosen from over 170 faculty, and was a finalist for the 2007 university-wide ASU Professor of the Year award.
Katie received her doctorate in violin performance from the University of Michigan as a student of Paul Kantor. She holds additional performance degrees from Indiana University and the Oberlin College Conservatory, and for three years was an orchestral fellowship recipient at the Aspen Music Festival. Her former teachers include Franco Gulli, Josef Gingold, and Kathleen Winkler.
---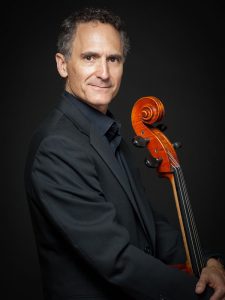 The son of a professional violinist, the musical path of cellist Marc Moskovitz has taken him from North Carolina to Indiana, Berlin, Virginia, Ohio, Boston and finally back to North Carolina. He has held positions at The University of Virginia and The University of Toledo, where he served as associate professor of cello and cellist of the Toledo Trio.  In 2001, Marc moved to Boston, where he performed with some of the city's most venerable music organizations, among them The Boston Pops and The Handel and Haydn Society, both of with which he toured, and the Boston Modern Orchestra Project, with which he frequently recorded. As co-founder and cellist of Montage Music Society, he gave the North American premiere of Zemlinsky's rediscovered Cello Sonata at the Library of Congress, which the Washington Post called "an impassioned performance."  His recordings include the music of cello virtuosi David Popper and Alfredo Piatti, both on the VAI label, and premiere recordings of music of Franz Reizenstein and Eric Zeisl (ASV).  Marc has also performed as a guest of the International Piatti Festival in Bergamo, Italy.  In addition to his work as principal cellist of the ProMusica Chamber Orchestra, he performs regularly with the North Carolina Symphony and is founder of the Trinity Park Salon Series, a house music concert series in Durham, NC. A former student of cellists Janos Starker and Gary Hoffman, Marc holds a doctorate and master's degree from Indiana University and spent one year in Berlin with cellist Wolfgang Boettcher as a Fulbright scholar.
A committed scholar, Marc has written on a variety of musical subjects and for various music journals. He is the author of Alexander Zemlinsky: A Lyric Symphony and co-author of Beethoven's Cello: Five Revolutionary Sonatas and Their World, both published by Boydell & Brewer (UK). In addition to writing the program notes for the ProMusica Chamber Orchestra, Marc has provided program notes for orchestras and opera houses in Germany, Spain and China as well as the U.S, and liner notes for the Melba and Naxos record labels. His entries on historical cellists are found in The New Grove Dictionary of Music and Musicians.
When in Columbus, Marc performs on a cello owned by Catherine Adams. The instrument was owned and played by her great-grandfather, a professional cellist-turned-homesteader, who immigrated to America after serving in the court of the King of Hanover.
Back