Paul Rissmann, presenter
David Danzmayr, conductor
Paul Rissmann's Bio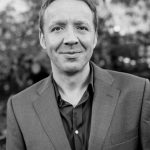 Paul Rissmann was born on the Isle of Bute, Scotland. He studied composition and classical saxophone at the Royal Academy of Music, Guildhall School of Music and Drama and the Royal Conservatoire of Scotland. His career involves writing music, talking about music and inspiring others to make and perform their own music. Paul works with people of all ages and all abilities.
He currently holds the position of Animateur for the London Symphony Orchestra and is Children's Composer in Residence for Music in the Round. His diverse portfolio of compositions range from electronic music for Microsoft to an orchestral fanfare for the opening of the Twin Sails bridge.
Paul has produced a series of highly interactive works that enable thousands of people to perform as equals with professional musicians. His composition Bamboozled for audience and orchestra has been performed by over 45,000 people – from the USA to Australia. It was performed at an Olympic Torch relay in the UK by the Philharmonia Orchestra and in Avery Fisher Hall by the New York Philharmonic.
Paul is frequently commissioned to set children's books to music. His partnership with Ensemble 360 has resulted in hundreds of performances around the UK, from the Crucible to the Wigmore Hall. In 2012 Paul won a British Composer's Award for his composition The Chimpanzees of Happytown. This piece was recently recorded by the London Symphony Orchestra, with Paul as narrator, and will be released in 2016.
As a passionate music educationalist, Paul is equally comfortable making music in a primary school or explaining the intricacies of Stravinsky's motor-rhythms to an audience of adults. His work in this field has received awards from both the Royal Philharmonic Society and the Royal Television Society.
In 2014, Paul appeared as the LSO's Creative Director in a Channel 4 (UK) documentary Addicts' Symphony, exploring how music can be therapeutic in overcoming addiction.
As a concert presenter, Paul has worked with many leading orchestras in America, Australia, Europe, India, Malaysia and the Middle East. Recent engagements include concerts with the New York Philharmonic, Vienna Philharmonic, Valery Gergiev and the LSO in Trafalgar Square, Esa-Pekka Salonen and the Philharmonia at the South Bank and a tour of India with Nicola Benedetti and the BBC Scottish Symphony Orchestra.
Paul has hosted Classics Unwrapped for BBC Radio Scotland, created a critically acclaimed series of music discovery concerts for adults called Naked Classics, and performs Uncovered with the City of Birmingham Symphony Orchestra.
Back